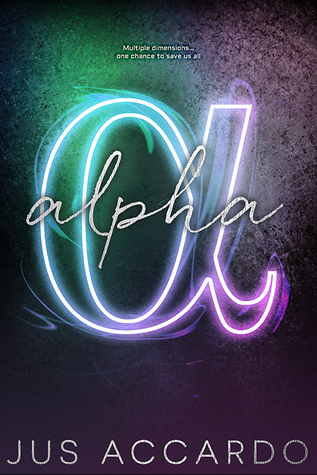 Date to be Published: July 3,2018
Author: Jus Accardo
Number of Pages: 304
Publisher: Entangled: Teen
I Voluntarily read and reviewed the ARC(Advanced Reader Copy) of Alpha. All thoughts and opinions are my own.
First Thoughts:
I didn't know what I was getting myself into when I first started this book. No I didn't read the first two books in this series but the premise of this book was too good to pass up. I thought heck, let's see if I could get into this book without reading the first two books. I mean the two main characters were different than the previous two books, what would the harm be? Where there was some confusion in the beginning on how things worked in the world, by the end I had a good grasp on the world. But I would totally recommend that you read the first two books first because the characters from those make an appearance in this book. I think I would've gotten more out of this book if I had read the first two.
Goodreads Summary:
Sera is the obsession of a killer chasing a ghost.
G is a soldier with too much blood on his hands.
Dylan lost the only person he ever loved--and will stop at nothing to get her back.
In a whirlwind chase that takes them back to where it all started, Sera, G, and Dylan will have to confront their demons--both physical and mental--and each other, in order to win their freedom.
Plot:
This book was focused on trying to take down Cora Anderson, at least one version of her. Because in this world there are several versions of the same person just in different dimensions of earth. It was sometimes hard to differentiate the different versions of the same person but most of the time the person was different from the other versions, so it made it easier to tell who was who. But this one version of Cora made up the main antagonist in the book. The whole time they're trying to take her down and there's obstacles in-between to keep the book flowing. I was surprised how fast this book was able to be read. The pages just flew past and before I knew it, I was to the Epilogue. And at the end there was an epilogue for the past two books characters, though I didn't take much for them because I didn't read the books. I know it would've made the world to the people who have. I loved the climax in this book, it had me on the edge of my seat and I couldn't wait till the downfall so I could catch my breath.
Romance:
This book was focused a lot on the romance. Dylan wanted Sera and G wanted Sera. Dylan only wanted Sera because she was another version of the girl he lost, Ava. And G wanted Sera because they bonded when they were held captive as experiments. They never got to see each other while held captive but they had the sound of each others voices to keep them company( how romantic!). I really liked the romance between G and Sera and I believe they were well suited for each other. The other couples in the book were good too but they were more prominent in their own story I'm sure.
Characters:
So G is another version of Dylan and Sera is another version of Ava. I really connected with Sera, she was someone I could understand. She had this undying love that no matter what, she was going to stick up for it. She wasn't going to let anything get in her way. Though she wasn't as strong of a character as I would've liked, she was still strong in her own way. G on the other-hand had a lot of weak moments. He was fighting an inner demon and so he was harder to see as particularly strong. Though he did have his strong moments. Dylan I hated even in the end. He let his grief get to him too much and was a jerk most of the book. Cade was pretty cool. He was more of a background character in this book but he was still fun to read.
Transformation of the Character:
Sera didn't do a lot of transforming in this book, which was disappointing. She seemed to me to be the same person throughout. Though G did do some transforming, he was a weak character throughout the book but by the end he finally settled on who he wanted to become. Dylan though was a jerk most of the book by the end he changed some too but he was still the same Dylan deep inside.
Description:
I liked how the author described the different dimensions of Earth. Some versions were vastly different while some were eerily similar. One dimension arrested you for any kind of violence and the punishment was almost always death. The author even described the types of clothes that were common in each dimension which was so cool that she would even consider that little detail. The author also did a great job on describing the characters emotions. Like I could really connect to G's emotions. He was holding back so much in the book, that I just wanted the release for him.
Style:
This was written in first person and in mainly two POV's(point of views). I think choosing to write in first person allowed the reader to better connect with both Sera and G. It allowed us to get inside their mind and understand their thought process and what they saw. Writing in the main two POV's allowed us to switch back and forth between the two main characters; Sera and G. We were able to see the world better; to get a better understanding the factors that were playing into the plot. At the end though, we got to get in a few more character POV's. It allowed for the series to wrap up and allow the author to say goodbye to their characters. I'm really glad the author did this because it really allowed the emotional departure from the world for the reader. Also, there were scenes throughout the book that took you back to when G and Sera were locked up as captives. This really was essential to the plot, we were able to better understand why things were playing out the way they were. Since this was the first time I read anything by the author it was my first time experiencing the authors' writing. I enjoyed her writing, it really was easy and fun to read. The dialogue was also good.
Quote of the Book:
"The muscles in my face were stiff, having not bent that way in God knew how long, but so help me, this would be the first of many."
Last Thoughts:
I'm still debating on whether to go back and read the first two because I was so satisfied with this book that I don't know if I need anymore experience with this world. So much happened that it really left me exhausted by the end. But I really enjoyed this book and look forward to any further series by this author. And yes this time I will read the first book first. But if you're not interested in the premises of the first two books this book can be read alone but I really recommend you read the first two first. I think you'll get more from this series if you do.
Rating: