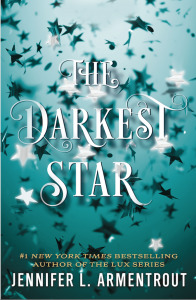 Date to be published: October 30, 2018
Author: Jennifer L. Armentrout
Number of Pages: 368
Publisher: Tor Teen
First Thoughts:
I literally devoured this book in a matter of a day or so. I literally couldn't put this book down (that's how good it was). If you loved Jennifer's Lux series you're going to love her Origin series just as much! The characters are just not feisty and yummy but they're really mysterious and devour-able. The Lux are at it again and you won't want to miss what else they have up their sleeves!
Summary:
Evie's life is turned on its end the night she meets Luc in the one place she's not supposed to be; a club where Luxen mingle with humans. There she meets Luc who is not only mysterious but comes to her aid when the club is raided.
Soon the two's lives become intertwined. No matter how hard Evie fights it, it only seems to bring Luc closer. As the days start to add up, Evie's life gets more and more uncontrollable. She learns things about her past and Luc and soon she has nothing to control anymore. Will Evie recover from what she's learned in time to face the real problem? The problem that no one saw coming?
Plot:


Jennifer did a great job on keeping the reader entertained the entire book; not once was I bored. I was itching to turn each page faster; wanting to absorb Evie's world. This book took place after the war between the humans and the Luxen. We learn even more about the Luxen and the characters past and present. I will admit, I wasn't this absorbed in the Luxen series as I was with this one. You don't have to read the Lux series to start this series! You can start with this book, it pretty much tells you all you need to know to get this book. You can always go back and read the Lux series later. Also, this book had so much going on, new and old characters introduced, elements new and old but it still drew me in. It was heart breaking at times and laughable at others. But this book really dealt with mental strength for Evie. She was put through some terrible things and yet had to decide whether to come out stronger or let it devour her. The ending left me wanting more and there will definitely be more in this series and I can't wait to devour them too! I want to know what happens next! Lots of twists and also some predictable parts too but it didn't seem to bother me. I still enjoyed reading it.
Romance:
Okay, the tension between Luc and Evie was sexual and high! Though almost the entire time Evie was fighting it! So it was frustrating at times to see the two interact but also realastic. I mean realistically speaking you're not going to thrust yourself at a mysterious stranger; someone you just met! He could be a serial killer for all you know! If you're smart, you'll take things slow and that's how the romance in this book played out.
Characters:
Loved, loved, loved Evie and Luc together. The two of them together were a hoot! I literally laughed at them since the beginning. They clashed yet were inseparable at the same time. Without one the other just didn't make sense. Luc has got to be one of my favorite characters of the year so far! He had the perfect attitude and personality. Jennifer did a great job creating him; allowing him in this world at the right moments to make the book more exciting and memorable. Some of Evie's friends like Zoe were good characters too. And Heidi. They were both great supporting characters! They were perfectly introduced into the story at the right moment to help give Evie a supporting hand. Luc's fellows were just as great as he was. I cannot emphasize how much the characters made this book so enjoyable and fun to read!
Transformation of the Character:
Evie definitely did a lot of transforming in this book; she literally had to. Not only did her life depend on it but so did others. I don't want to go into too much detail on this; I do not want to spoil this book for you...at all. But she did transform and I imagine she will blossom even more as this series progresses.
Description:
I liked that Jennifer described the scenery in a way that it kinda foreshadowed what was to come. She was poetic at times and hilarious at others. By hilarious I mean she described the scene in a way that put the reader at ease but also strung her up by her toes at the same time. It left the reader both frustrated but happy at the same time. The description was brilliant. The way the luxen were described gave the reader a idea on how to identify them later on. Also if you hadn't read the Lux series this was a huge help.
Style:
This was written in first person and in one point of view. I liked that Jennifer kept to just writing in Evie's point of view because it drew out the answers. It allowed the reader to guess and ponder what it could mean. Evie was ignorant for a lot of the book so it allowed that to happen. Being written in first person allowed the reader to get inside Evie's mind and see exactly how she was going to react to some of the situations. Jennifer's writing was just as eloquent and fun to read as ever. I've been attracted to her writing ever since I picked up her first book. She has a way with words for sure. Her writing draws the reader in....
Quote of the Book (Subject to changed. Read a advanced readers copy):
" "I don't want to talk to you anymore."
"Good...I can think of a lot more interesting things to do in a tiny, dark space that would pass the time."
My muscles locked up. "You try something and you will regret it." "
Last Thoughts:
There's so much to like about this book, the humor parts, the serious parts and best of all the Luc parts. Definitely hands down one of my favorite books by Jennifer. I seriously encourage you to go and pre-order this now. If you liked her Lux series you're going to LOVE her Origins series too! Totally recommend this to sci-fi and Lux readers! Also, if you loved Jennifer's writing in another book, you'll going to love her writing in here! She was
utterly brilliant!
Rating:
5 Blooms! Fully Bloomed!